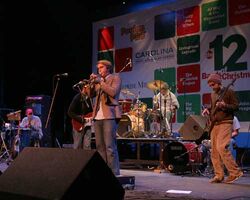 12 Bands of Christmas Website
- The
12 Bands of Christmas
is an annual event that raises funds for the Children's Medical Center at the Medical College of Georgia in Augusta, GA. Each year since 2001 the event has featured 12 area musical acts performing at the Imperial Theatre in downtown Augusta. In its third year the annual event would increase fundraising efforts with the debut addition of the 12 Bands of Christmas CD averaging over $30,000 a year in funds raised between 2003 and 2007.
---
Ad blocker interference detected!
Wikia is a free-to-use site that makes money from advertising. We have a modified experience for viewers using ad blockers

Wikia is not accessible if you've made further modifications. Remove the custom ad blocker rule(s) and the page will load as expected.