Operating at the intersection of Southern soul and rock and roll, Bleeding Counterfeit blends barroom boogie with heart-on-sleeve confession. Featuring a Memphis-style soul singer with Southern rock aspirations, a break-neck blues savant on guitar and an unhinged rhythm section in the finest rock tradition, Bleeding Counterfeit is the rarest of beasts, an amalgamation of disparate musical parts that works exceedingly well as a whole.
Members: Josh Pierce - Lead Vocals / Guitar; Joel Hodges - Drums / Vocals; Chris Libby - Bass; Michael Baideme - Lead Guitar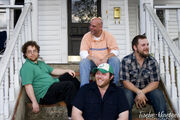 Ad blocker interference detected!
Wikia is a free-to-use site that makes money from advertising. We have a modified experience for viewers using ad blockers

Wikia is not accessible if you've made further modifications. Remove the custom ad blocker rule(s) and the page will load as expected.