Spinscythe is a musical project that was created by
Blackout
guitarist
Jeremy Minney
in 2008. Origina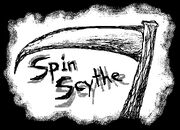 lly intended to only be a side-project for creative energy, it blossomed into a full-time musical project after the abandonment of Blackout in 2010. Since then, other musicians have been recruited to Spinscythe, making it more of a group than a solo act.
Style and Influence
Edit
The music genres Spinscythe uses to describe itself are Metal, Melodic death metal, Punk metal, Rock, Acoustic, World, and J-Pop or J-rock. Influences draw from Japanese rock music to Gothenburg metal bands and everything inbetween. Several songs are also inspired by video game music.
Jeremy Minney - Vocals, guitar (All music, lyrics, recordings, and MIDIs)
Shane Hartness - Bass guitar
Jimmy Lopez - Guitar
Networking
Edit
A splash of Spinscythe's music can be heard on several webpages currently.
Spinscythe also works in partnership online with Mystical Ping Productions and can be heard in episodes of The Legend of Roika series' soundtrack.